Octospora rustica (Velen.) J. Moravec

Ceská Mykol. 23: 226 (1969)



Basionym: Humaria rustica Velen., Monogr. Discom. Bohem. (Prague): 327 (1934)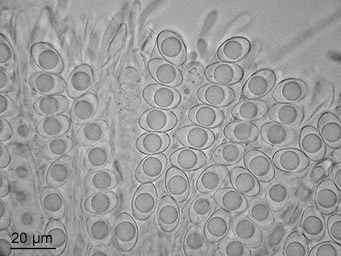 1 :Octospora rustica, asci with ascospores

Apothecia: 1-3(-4) mm in diameter, hymenium orange, pale-orange, without a membranaceous margin
Asci: 140-210 x 14-19 µm, 8-spored, spores uniseriate
Ascospores: ellipsoid, (15)16-18(20) x 10-12(13) µm, smooth or delicately rugose
Host: Ceratodon purpureus
Infectious structures: infects the rhizoids
Habitat: on soil with pioneer mosses, in base-poor habitats
Distribution: common in Germany (BY, BE, BB, HH, MV, SN, ST, TH) also known from Czech Republic, Estonia, Finland, United Kingdom



References:
Benkert, D. 1995. Becherlinge als Moosparasiten. - Boletus 19: 97-127.
Benkert, D. 2009. Zwei neue Arten bryophiler Pezizales (Ascomycota) aus der Bundesrepublik Deutschland und Auflistung der aus Deutschland bisher nachgewiesenen Arten mit Kurzdiagnostik. - Zeitschrift für Mykologie 75: 51-68.
Billekens, P. 1992. Octospora rubens and Octospora rustica in The Netherlands (Pyronemataceae, Ascomycota). - Persoonia 15: 55-62.
Brouwer, E. 1999. Mosschijfjes (Lamprospora en Octospora): voorkomen en verspeiding in Nederland. - Coolia 42: 2-20.
Caillet, M. & Moyne, G. 1987a. Contribution a l'étude du genre Octospora Hedw. ex S.F. Gray (Pezizales), Espèces à spores elliptiques ou fusiformes. - Bulletin de la Société Mycologique de France 103: 179-226.
Caillet, M. & Moyne, G. 1991. Clé de détermination du genre Octospora et des genres voisins. - Bulletin de la Société d'Histoire Naturelle du Doubs 84: 9-24.
Dennis, R. W. G. & Itzerott, H. 1973. Octospora and Inermisia in Western Europe. - Kew Bulletin 28: 5-23.
Döbbeler, P. & Itzerott, H. 1981. Zur Biologie von Octospora libussae und O. humosa, zwei im Moosprotonema wachsende Pezizales. - Nova Hedwigia 34: 127-136. [ut Octospora libussae]
Engel, H. & Hanff, B. 1985. In Nordwestoberfranken gefundene Arten der Gattung Octospora Hedwig ex S. F. Gray. - Die Pilzflora Nordwestoberfrankens 9/A: 3-20.
Itzerott, H. 1981. Die Gattung Octospora mit besonderer Berücksichtigung der Pfälzer Arten. - Nova Hedwigia 34: 265-280.
Itzerott, H. 1983b. Octospora rustica, ein parasitischer Brandstellenbewohner. - Agarica 4: 115-120.
Krieglsteiner, L. 2004. Pilze im Biosphären-Reservat Rhön und ihre Einbindung in die Vegetation. - Regensburger Mykologische Schriften 12: 1-770.
Rubio, E., Suárez, A. & Miranda, M. A. 2000. El genero Octospora Hedw.:S.F. Gray (Ascomycetes, Pezizales) en Asturias y Leon. - Bol. Soc. Micol. Madrid 25: 111-126.
Svrček, M. 1962. Neottiella vivida (Nyl.) Dennis. - Česká Mykologie 16: 115-116. [ut Octospora libussae]
Svrček, M. 1979. A taxonomic revision of Velenovsky's types of operculate discomycetes (Pezizales) preserved in National Museum, Prague. - Sborník Národního Muzea v Praze 32B: 115-194.