Octospora similis (Kirschst.) Benkert

Agarica 14: 51 (1996)



Basionym: Humaia similis Kirschst. in Jaap, Verh. Bot. Ver. Prov. Brandenburg 64: 9 (1922)
Type: Germany, Triglitz, Ostprignitz, auf feuchter Erde zwischen Moosen, leg. O. Jaap, 1918-Sep (B 70 0011937)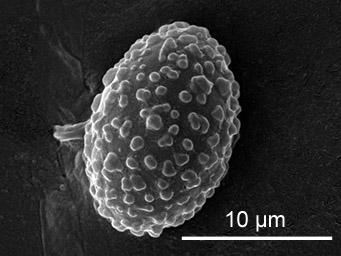 1: Octospora similis, SEM-image of ascospore

Apothecia: 1-2(3) mm in diameter, hymenium pale-orange to orange, pink or ochre, margin finely fimbriate
Paraphyses: straight to apical curved
Asci: 200-250 x 14-17 µm, 8 spored, spores uniseriate
Ascospores: ellipsoid, (15)16-18(20) x (10)11-13(14.5) µm, ornamentation consisting of dense, rounded, isolated warts 0.5-1(-1.5) µm broad and 0.5(-1) µm high, sometimes the warts are connected to short lines, spores with one oil droplet of 9-10 µm in diameter
Host: Bryum dichotomum, Bryum subapiculatum, Bryum ssp.
Infectious structures: This species infects the rhizoids. Appressoria on thin rhizoids usually visible, 2-celled. Appressoria on thick rhizoids usually coverd by many accompanying hyphae and therefore not visible.
Habitat: on permanentely damp, sandy soil in sand- and gravel-pits, damp tracks or pond margins
Distribution: Antarctica (Danco Coast), Czech Republic, Finland, France, Germany (BY, BB, HH, MV, RP, ST, TH), Iceland (Pfister & Eyjólfsdóttir 2007), Norway, Spain, Svalbard, United Kingdom, U.S.A.
Note: The type is very scant and can't be related to recent collections with certainty. There seem to be several lineages of Octospora with verrucose spores which fit the description. They should all be named 'O. similis agg.' until more information is available.


References:
Benkert, D. 1995. Becherlinge als Moosparasiten. - Boletus 19: 97-127.
Benkert, D. 1996. Beiträge zur Kenntnis bryophiler Pezizales-Arten. 4. Octospora similis (=O. melina). - Agarica 14: 50-57.
Benkert, D. 1998a. Beiträge zur Kenntnis bryophiler Pezizales-Arten. 6. Wrightoideae, eine neue Sektion der Gattung Octospora. - Zeitschrift für Mykologie 64: 17-40.
Benkert, D. 2009. Zwei neue Arten bryophiler Pezizales (Ascomycota) aus der Bundesrepublik Deutschland und Auflistung der aus Deutschland bisher nachgewiesenen Arten mit Kurzdiagnostik. - Zeitschrift für Mykologie 75: 51-68.
Benkert, D. & Kristiansen, R. 2008. Octospora splanchnophila Benkert et Kristiansen spec. nov. (Ascomycota, Pezizales): Im 19. Jahrhundert gesammelt, im 21. Jahrhundert benannt. - Zeitschrift für Mykologie 74: 111-118.
Brouwer, E. 1999. Mosschijfjes (Lamprospora en Octospora): voorkomen en verspeiding in Nederland. - Coolia 42: 2-20.
Caillet, M. & Moyne, G. 1987a. Contribution a l'étude du genre Octospora Hedw. ex S.F. Gray (Pezizales), Espèces à spores elliptiques ou fusiformes. - Bulletin de la Société Mycologique de France 103: 179-226.
Caillet, M. & Moyne, G. 1991. Clé de détermination du genre Octospora et des genres voisins. - Bulletin de la Société d'Histoire Naturelle du Doubs 84: 9-24.
Dennis, R. W. G. & Itzerott, H. 1973. Octospora and Inermisia in Western Europe. - Kew Bulletin 28: 5-23.
Dissing, H. & Sivertsen, S. 1983a. Operculate Discomycetes from Rana (Norway) 4. Octospora hygrohypnophila, Peziza prosthetica und Scutellinia mirabilis spp. nov. - Nordic Journal of Botany 3: 415-421.
Eckstein, J., Eckstein G., Frauenberger, H. & Wieschollek, D. 2020. Erste Checkliste der Moosbecherlinge Thüringens. - Boletus 41: 51-64.
Engel, H. & Hanff, B. 1985. In Nordwestoberfranken gefundene Arten der Gattung Octospora Hedwig ex S. F. Gray. - Die Pilzflora Nordwestoberfrankens 9/A: 3-20.
Huhtinen, S. 1987. New Svalbard fungi. - In: Laursen, G. A.; Ammirati, J. F.; Redhead, S. A. (eds.). Arctic and alpine mycology II. New York: Plenum Press, pp. 123-151.
Itzerott, H. 1981. Die Gattung Octospora mit besonderer Berücksichtigung der Pfälzer Arten. - Nova Hedwigia 34: 265-280.
Itzerott, H. 1983a. Octospora melina, ein seltener Gallenbildner. - Agarica 4: 108-114.
Janošík, L., Sochorová, Z., Eckstein, J., Vega, M. & Koukol, O. 2023. Ascospore morphology of bryophilous Pezizales is closely associated with the place of infection and host ecology. - Fungal Ecology 61: 101200. DOI
Krieglsteiner, L. 2004. Pilze im Biosphären-Reservat Rhön und ihre Einbindung in die Vegetation. - Regensburger Mykologische Schriften 12: 1-770.
Németh C., Eckstein J. & Sochor M. 2022. Disentangling the taxonomy of Octospora meslinii (Pezizales), a bryophilous ascomycete on Grimmia pulvinata. - Czech Mycology 74: 1–24.. PDF
Pfister D.H. & Eyjólfsdóttir G. G. 2007. New records of cup-fungi from Iceland with comments on some previously reported species. - Nordic Journal of Botany 25: 104–112. [as O. melina]
Ribollet, P. 2015. Contribution a? la connaissance des genres Octospora Hedw. 1789 et Lamprospora De Not. 1864 en Loire-Atlantique. - Cahiers Mycologiques Nantais 27: 3-12. [as O. melina] PDF
Richter, T., 2013. Octospora similis. - URL: http://www.pilzverein-rehna.de/pilzgalerie/59-octospora-similis.html
Rubio, E., Suárez, A. & Miranda, M. A. 2000. El genero Octospora Hedw.:S.F. Gray (Ascomycetes, Pezizales) en Asturias y Leon. - Bol. Soc. Micol. Madrid 25: 111-126.
Svrček, M. 1979. A taxonomic revision of Velenovsky's types of operculate discomycetes (Pezizales) preserved in National Museum, Prague. - Sborník Národního Muzea v Praze 32B: 115-194.
Vega, M. 2017. Vorläufige Checkliste der in Hamburg vorkommenden Moosbecher-Arten aus den Gattungen Lamprospora, Neottiella, Octospora und Octosporopsis. - Boletus 38: 27-33.
Yao, Y. J. & Spooner, B. M. 1996b. Notes on British species of Octospora. - Mycological Research 100: 175-178.